Best International School in Gurgaon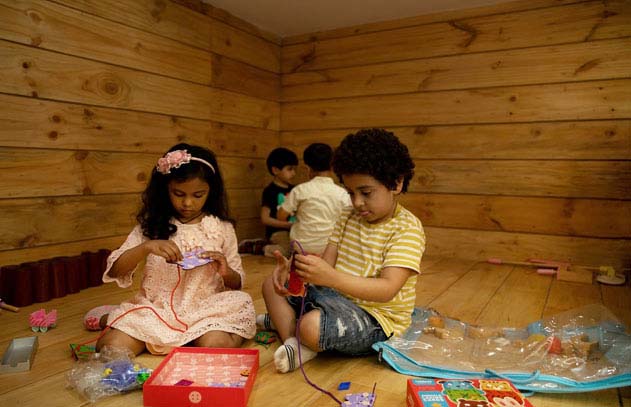 Who we are
Heritage International Xperiential School (HIXS), a top international school in Gurgaon places high value on Indian heritage while also celebrating the global identities of its students. According to IB-Schools.com's 2022 rankings, HIXS is regarded as the top IB school in Gurgaon and one of the top three in India.
HIXS aspires to be recognized as the one of the best international schools globally, offering genuine, student-centered education that enables the future generation to take charge of healing our world. The school's objective is to cultivate each student's social and creative intelligence, fostering individuals who possess a sense of curiosity, introspection, purpose, and self-confidence.
Our vision
Our dedicated team of educators is determined to inspire students by equipping them with the appropriate knowledge, skills, and mindset. In today's dynamic educational landscape, we endeavour to fulfill our promise by implementing innovative teaching methodologies and pedagogies while creating additional opportunities for enhanced learning within the classroom.
Our Inspirations
We draw inspiration from a myriad of educational philosophies, including Waldorf, Montessori, Krishnamurthy, Sri Aurobindo, and Kurt Hahn, the founder of Atlantic College in Wales and a proponent of expeditionary learning. Interestingly, the origins of the IB programme can be traced back to Hahn's work in outbound learning and his belief in the power of immersive learning with a real purpose, which enables learners to confront their true selves and solve real-world problems.
This philosophy has been the cornerstone of the IB programme, but the danger of standardization is that the original spirit can be lost. As the best international school in Gurgaon, our aim is to preserve and cultivate that spirit, ensuring that our students receive the kind of education that IB was originally intended to provide.
Programme Structure
HIXS has consistently delivered excellence in education for over a decade and remains the leading international school in Gurgaon. Our comprehensive programme structure is designed to offer students an enriching educational experience, starting with the International Primary Programme (IB PYP with the Heritage Early Years Programme) from Nursery to Grade 4, the Lower Cambridge Programme in Grades 5 to 8, the International General Certificate of Secondary Education (IGCSE) in Grades 9 and 10, and the International Baccalaureate Diploma Programme (IB DP) in Grades 11 and 12.
Our curriculum is thoughtfully crafted to seamlessly integrate age-appropriate learning with our Mastery Strands, which complement the best internationally accredited curriculum boards, giving our students a distinctive edge. We are committed to fostering leadership qualities and a culture of advisory to nurture our students' full potential throughout their school years. Our unwavering dedication is to equip our students with the necessary knowledge and skills to thrive in today's world.
IBDP Results 2022
IBDP Result Highlights
Key Result Statistics
Scores 2022
Scores 2021
World Avg 2022
Average Score
39
38
32
Highest Score
45
45
45
Students scoring >40
48%
31%
10%*
Students scoring >35
92%
93%
Diploma pass rate
100%
100%
Core Average
2.4
2.2
Yet to be released
3 bonus points in Core (Max possible score)
48%
34%
% of As in ToK (highest possible grade in ToK)
24%
24%
% of As in Extended Essay (highest possible grade in Extended Essay)
36%
34%
*Wordwide trends in the past few years. Figures for 2022 yet to be released
Our students' exceptional performance in the International Baccalaureate Diploma Programme (IBDP) has earned us recognition as the top international school in Delhi NCR and one of the top three IB schools in India. According to the IB Schools League Tables recently published by Education Advisers Ltd., our average IBDP score of 39 far surpasses the world average of 32.
We are immensely proud to share that nearly half of our students – 48% – scored 40 and above, with an impressive 92% scoring above 32. This achievement is a testament to the high academic standards we maintain and the rigorous learning environment we provide our students.

SPACE: THE THIRD TEACHER
Consistently ranked amongst the top IB schools in Gurgaon, HIXS is spread over 2 campuses- Junior Campus for Nursery to Grade 2 and Middle & Senior Campus for Grade 3 to Grade 12.
The HIXS Primary Campus at DLF 5 has a contemporary design that prioritizes environmental sustainability and is equipped with cutting-edge academic and sports facilities. We firmly believe that space is the third teacher and has a significant impact on the depth of students' learning, and our campuses are designed to be learner-centric and knowledge-centric, fostering an atmosphere that encourages students to take ownership of their learning and seek out information rather than solely relying on teachers.
TOP